IMB Proudly Presents:
Wolfgang Amadeus Mozart
The Last Symphonies
November 3rd-8th 2013 with Prof. Lutz Köhler and the Berlin Sinfonietta
We are very happy to have Prof. Lutz Köhler with us for this exciting masterclass. Prof. Köhler is playing for long time an important role in the field of conducting – teaching  in prestigious academic institutions. He is the Head of Conducting Department in University of the Arts (UdK) Berlin and Prof. for Conducting Escuela Superior de Música de Catalunya in Barcelona. Prof. Köhler is regularly a jury member in international conducting competitions all around the world. Lutz Köhler gives masterclasses around the world; many of his students have won prizes at prestigious competitions and hold prominent positions in today's musical life.
This masterclass gives a rare opportunity to both professional and student conductors to study with Prof. Köhler in a workshop environment, and focus on one of Prof. Köhler specialties, the orchestral music of W. A. Mozart. It will be a unique chance to spend a week with a professional orchestra and Maestro Köhler, going into the depths of Mozart's last symphonic works.  Each of the three last Symphonies is a masterpiece in it's own, and together they consists a very interesting program and overview on the composer's greatest achievements in the field of symphonic writing.
Besides intensive active conducting sessions with a professional orchestra, each one of the participants will have the chance to work with Mr. Köhler on critical aspects of conducting including studying the score, musical analysis, conducting technique, etc. There will be four sessions (each 4 hours long) with the professional musicians of the Berlin Sinfonietta.  All the participants will have the chance to perform in the final, public concert.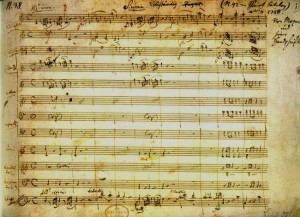 The number of participants is limited to twelve, who will be selected from all the applicants.
There is no age limit and conductors at all levels are advised to apply. The course will be taught primarily in English, and secondarily in German. 
If you don't speak these languages, and you would like to participate in the masterclass, we will make our best effort to provide a translator. Please mention that in your application.
All the sessions with the orchestra will be video recorded, and each participant will receive a DVD.
Participants are welcome to bring their own recording device.
We look forward to this exciting masterclass.  You are very welcome to apply here.
Repertoire:
Symphony No. 39 in E♭ major KV 543 
Symphony No. 40  in G minor KV 550
Symphony No. 41  in C major KV 551 <Jupiter>
All participants must prepare all the repertoire pieces
Home | About us | Masterclasses | Orchestra| Location | Application | Contact | Impressum