IMB Proudly Presents:
Classic and Neoclassic  – Haydn, Mozart, Prokofiev
March 23rd – 28th 2014 with M° Roberto Paternostro and the Berlin Sinfonietta
We are happy to collaborate for the first time with one of the world most distinguished concerts and opera conductors, Maestro Roberto Paternostro. It is a unique opportunity to work closely with Maestro Paternostro and learn from his vast experience as a conductor.
Besides intensive active conducting sessions with a professional orchestra, each one of the participants will have the chance to work with Mr. Paternostro on critical aspects of conducting including studying the score, musical analysis, conducting technique and string technique. We will have four orchestra rehearsals (4 hours long each) with the professional musicians of the Berlin Sinfonietta.  All the participants will have the chance to perform in the final, public concert. 
Maestro Paternostro's idea behind the selection of this masterclass's program is to explore and expose the classical Symphony form from different angels. By examining Haydn's work from Mozart's eyes, and from the eyes of the young Prokofiev in the year 1916, one can shed different light on the classical style of the 1st Viennese school, and on Prokofiev later works.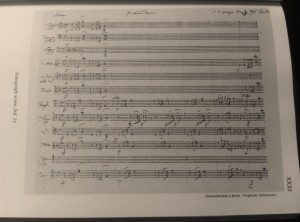 The selection of these pieces are a great challenge even for experienced conductors and orchestras. Working in details with Maestro Paternostro on the musical and technical issues during the orchestra rehearsals, and the preparations for the final concert, will contribute a lot for the conducting and rehearsing skills of the participants of this masterclass.

Maestro Paternostro, born and raised in Vienna, Austria, will share with the masterclass participants his view on the tradition and the style of the performance of the Viennese Classic from the technical and the musical aspects. It is a rare opportunity to study closely from a conductor of such degree, and to see "how it should be done".
The course will be taught primarily in English, and secondarily in German. If you don't speak these languages, and you would like to participate in the masterclass, we will make our best effort to provide a translator. Please mention that in your application. All the sessions with the orchestra will be video recorded, and each participant will receive his or her videos on a 8 GB USB stick, which he or she may keep and take home with them.
Participants are welcome to bring their own recording device.
You are more than welcome to apply here.
Repertoire:
J. Haydn
Symphony No. 104  in D Major 
W. A. Mozart
Symphony No. 35 in D Major  KV 385 <Haffner>
Sergei Prokofiev 
Symphony No. 1 in in D Major Op. 25 <Classical Symphony>
The participants must prepare all the repertoire pieces