IMB Proudly Presents:
From Beethoven to Mendelssohn
The Early German Romantic
15th – 19th December 2013 with Kenneth Kiesler and the Berlin Sinfonietta
We are happy to join forces for the third time this year with the world renowned "mentor of conductors" the head of IMB's conducting program, Maestro Kenneth Kiesler.  It is a great opportunity to experience his highly regarded and important approach to teaching conducting in Europe.
Like in past masterclasses, also in this masterclass we are very happy to cooperate with the very talented concertmaster, soloist and pedagogue, Sergej Bolkhovets, who will join Maestro Kiesler in a breathtaking session about strings techniques, bowing issues  etc. Mr. Bolkhovets will also play the two violin concertos by Beethoven and Mendelssohn with the Berlin Sinfonietta and the masterclass participants.
In this masterclass we will continue to explore in depth more aspects of musical development. After focusing on the 1st Viennese School in Maestro Kiesler's first masterclass, with composer like Haydn, Mozart and Schubert, and after dedicating Maestro Kiesler 2nd masterclass exclusively to Beethoven's symphonic writings, In the third one we will examine the influences of Beethoven on the organic development of music, specially the development of musical Form. We chose three major orchestral musical forms to focus on, the Overture, the Concerto and the Symphony. We will have the chance to compare, analyse and discuss these and other related issues, that are very important for the performance of the music of these two giants, Beethoven and Mendelssohn.
Besides intensive active conducting sessions with a professional orchestra, each one of the participants will have the chance to work with Mr. Kiesler on critical aspects of conducting including studying the score, musical analysis, conducting technique and string technique.  We will have four orchestra rehearsals (4 hours long each) with the professional musicians of the Berlin Sinfonietta.  All the participants will have the chance to perform in the final, public concert.
The number of participants is limited to twelve who will be selected from the applicants. Application is possible until the masterclass is full. There is no age limit and conductors at all levels are advised to apply.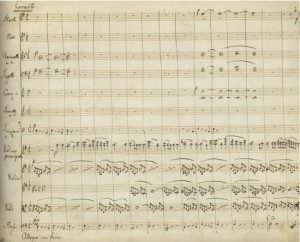 The course will be taught primarily in English, and secondarily in German. If you don't speak these languages, and you would like to participate in the masterclass, we will make our best effort to provide a translator. Please mention that in your application.
All the sessions with the orchestra will be video recorded, and each participant will receive his or her videos on a 8 GB USB stick, which he or she may keep and take home with them.
Participants are welcome to bring their own recording device.

The repertoire for this masterclass is carefully chosen. These masterpieces have a very strong connection to one other, and offer an overview of one of the most important and influential eras of music and culture.
You are more than welcome to apply
here
.
Repertoire:
L. v. Beethoven
The Creatures of Prometheus Ouvertüre op. 43
Violin Concerto in D major op. 61
Symphony No. 4 in B♭ major op. 60
Felix Mendelssohn Bartholdy
Die Hebriden Overtüre op. 26
Violin Concerto in E minor op. 64
Symphony No.4 in A major op. 90 "Italian"
Violin Solo – Sergej Bolkhovets
The participants must prepare all the repertoire pieces