IMB Proudly Presents:
25th International Masterclass for Orchestral Conductors in Berlin:
OPERA WORKSHOP & FINAL CONCERT
Prof. Roberto Paternostro (Vienna)
Berlin Sinfonietta
Soloists TBA
W. A. Mozart
February 13
th – 

18

th 

2017

We are happy to collaborate again for the second  time  after a two years pause with one of the world most distinguished concerts and opera conductors, Prof. Roberto Paternostro. 
For this Opera Workshop, Prof. Paternostro chose to Overtures, Recitatives, Arias and Duets from Mozart's three great operas, Don Giovanni, The Marriage of Figaro, and Cosi fan tutte, together with his monumental Symphony No. 36 in C Major KV 425 (Linz).  It is a unique opportunity to work closely with Prof. Paternostro and learn from his vast experience as an opera conductor.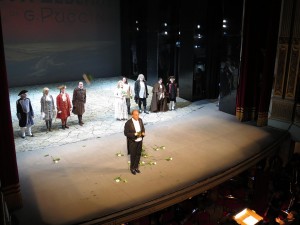 Besides intensive active conducting sessions with a professional orchestra, each one of the participants will have the chance to work with Prof. Paternostro on critical aspects of opera conducting with strong focus on the work with voices and the preparation of the singers as well as the specific technical aspects of opera accompaniment. Be prepared for an intense week of coaching sessions with the three singers, score studying and musical analysis, as well as conducting technique. Like always we will hold four orchestra rehearsals (4 hours long each) with the professional musicians of the Berlin Sinfonietta.
All the participants will have the chance to perform in the final, public concert.
All of the conductors will receive a professional recording of the final concert with high sound quality and HD video.
The course will be taught primarily in English and secondarily in German, though Prof. Paternostrospeaks fluently several languages.
All the sessions with the orchestra will be video recorded, and each participant will receive his or her videos on a 16 GB USB stick, which they may keep and take home with them.  Participants are welcome to bring their own recording device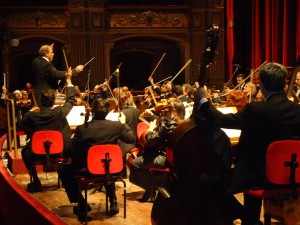 The selection of these pieces are a great challenge even for experienced conductors and orchestras. Working in details with Maestro Paternostro on the musical and technical
issues during the orchestra rehearsals, and the preparations for the final concert, will contribute a lot for the conducting and rehearsing skills of the participants of this masterclass.
Maestro Paternostro, born and raised in Vienna, Austria, will share with the masterclass participants his view on the tradition and the style of the performance of the Viennese Classic from the technical and the musical aspects. It is a great and rare opportunity to study closely from a conductor of such degree, and to see "how it should be done" artistically and technically.
Location:
Address: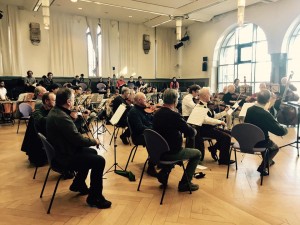 Oranienburgerstr. 28, 10117 Berlin
View Map

This masterclass will take place in the main hall in the building of the Jewish Community in Berlin, in the Miete district. This area considered to be "the heart" of the city, and close to all the attractions that the city has to offer. The modern and intimate concert hall is located next to the big and famous Synagogue in Oranienburgerstrasse.  
You are more than welcome to apply here.
W. A. Mozart
Overtures, Arias, Recitatives and Duets*:
Updated 2.1.2017
Cosi fan tutte:
Ouverture
Nr. 4 Duetto Fiordiligi/ Dorabella "Ah, guarda, sorella,"
Nr. 14 Arie Fiordiligi "Come scoglio immoto resta"
Nr. 23 Duetto Dorabella/Guglielmo "Il core vi dono" (Added on 2.1.2017)
Nr. 25 Rondo "Per pieta ben mio perdona"
Le nozze di Figaro:
Nr. 16: Duettino Graf, Susanna "Crudel, perche finora"
Nr. 17: Rezitativ und Arie Graf "figaro hai gia vinta la causa!"
Nr. 19: Rezitativ und Arie Gräfin "E Susanna non vien!"
Don Giovanni:
Ouverture
Nr. 4 Arie Leporello "Madamina! Il catalogo e questo"
Nr. 7 Duettino Don Giovanni und Zerlina "La ci darem la mano, la mi dirai di si"
Symphony No. 36 in c Major  KV 425 <Linz>
* The numbers are the common numbers as found in the known editions. This case is from from Peters Edition.
In any case of a doubt, please referr to the titile as the identificaion. 
Participants are expected to prepare all the repertoire pieces